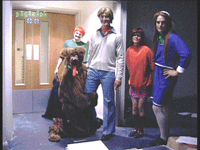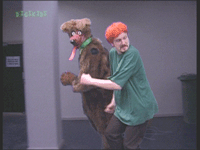 Here's a little film I made way back in 1996, with some chums from the BBC Post Production department, produced for inclusion in that year's 'VT Christmas Tape'. (For those of you that are unfamiliar with the 'VT Christmas Tapes', they are an infamous annual event which has been going since 1978, made by the BBC's post production staff, and which include outtakes, satire, spoofs, skits, parodies and generally anything else that's both very funny and in extremely bad taste).

I've always liked 'Scooby Doo' (well, the early ones, not the ones with that flipping annoying Scrappy-Doo in), which follows the adventures of a cowardly and ever-hungry mutt, and his owner Shaggy, a similarly cowardly beatnik hippie with an insatiable appetite for food. They travel around in a van called 'The Mystery Machine' along with their group of friends, made up of Fred - a good looking and far too sensible young man; Daphne - Fred's pretty redheaded girlfriend; and Velma - the speccy knowitall. Each week would pit our self-styled 'Mystery Inc.' heroes against hideous monsters and diabolical demons, which would eventually turn out to be the bloke we met in the first couple of minutes of the show, now dressed up in a costume in an attempt to scare people away as part of a convoluted plot to steal gold / silver / jewels, etc. It's a simple formula, which is still going strong even today. A live-action 'Scooby Doo' feature film was released in 2002, with a CGI Scooby, and Sarah Michelle Geller from 'Buffy' in it; for the record, I'd like to point out that my live-action film came out six years before Hollywood's, so yah sucks boo to them!

Filming took place on a Sunday in the Summer of 1996, in and around Stage V - the Post Production area of the legendary BBC Television Centre, located in sunny Shepherd's Bush. After arriving early so that I could prep for recording one last time, and also to attempt to get Shaggy's voice right (okay, I know, I failed dismally - but at least I tried..!) the cast and crew appeared and began changing into their costumes. Philip made a great Fred, John a frightening but surprisingly-accurate Daphne (!), and the act of getting Bobby G into his Scooby-Doo costume was hysterical (we'd borrowed the suit from the Beeb's costume store, and I'd made the mask especially out of papier mache - in typical BBC tradition, it was all very low budget!). Even more amazing was the sight of Yvonne arriving in full costume, looking like Velma herself had stepped straight out of the cartoon!

Together with able cameraman Dave Rixon and production assistant Debra Hill, the day's recording whizzed by as we zipped from location to location - pausing only to grab some lunch from the tea bar, amid some very odd stares (we were still in full costume, even Bob!). Recording finally wrapped at 6pm. Then it was a quick change of outfit and off to the nearest curryhouse on Shepherd's Bush Green, for a slap-up meal and lashings of beer!

'Scooby Doo and the Mystery of Stage V' runs for about six minutes in total. I hope you enjoy it!




CAST
Scooby-Doo
....................
Bob Greenwood
Shaggy
....................
Clive Banks
Velma
....................
Yvonne Wootton
Fred
....................
Philip Dee
Daphne
....................
John Jameson
Mr. Danny
....................
Danny Iwuji

CREW
Videotape Editor
....................
Philip Dee
Cameraman
....................
Dave Rixon
Sound & Noise
....................
Bob Greenwood

Written, Produced and Directed by Clive Banks

Back to the Databanks Main Page -
where you'll find guides to some of the best cult and classic science fiction and telefantasy programmes ever transmitted!

Legal Bit: 'Scooby-Doo' is a registered trademark of Hanna Barbera / Warner Bros. Television. The 'Scooby-Doo' logo and all images from the television series are copyright Hanna Barbera / Warner Bros. Television unless otherwise stated; music is copyright the original composers and producers; no copyright infringement is intended. The film 'Scooby-Doo and the Mystery of Stage V' and all specially created images and text are copyright © Clive Banks; please do not use these without my permission. All rights reserved. No profit is made from this website, and any revenue made from using the banner-links featured goes straight back into the costs of maintaining it, which comes out of my own pocket in the first place. No profit advertising is accepted. This website was created purely to entertain and amuse, and any references to persons living, dead, comatose, in suspended animation, not born yet, a ghost, a baddie in disguise, or a figment of someone's imagination is purely coincidental. All opinions expressed are my own, so there...



[Homepage]

[About Me]

[C.V.]

[Gallery]

[What's New]

[Nothing]

[FAQ]

[Contact Me]