"Twenty minutes into the future..."
The idea of Max Headroom came from Peter Wagg of Chrysalis Records, together with Rocky Morton and Annabel Jankel. Chrysalis Visual Programming allowed Wagg to develop his Max Headroom ideas, which led to the creation of Lakeside Productions. Then, in 1984, Channel Four commissioned 'The Max Headroom Show', featuring a supposedly computer-generated host (in reality actor Matt Frewer in prosthetic make-up, helped by some simple editing trickery) who gave his acerbic opinions on the various pop videos that he played.

When the show proved an amazing success, it was decided to give Max an origin story, and a series of five-minute episodes was planned, one segment to be shown each week. However, the producers soon realised that this would be impractical, and so a feature-length TV movie was commissioned instead. The production met with high acclaim, and is an excellent example of the cyberpunk genre; set in a society where television has completely taken over everyone's lives, the movie contains some intriguing – and disturbing – ideas, and was produced to a high standard.

As Max continued to increase in popularity, 'The Max Headroom Show' carried on for a few more seasons and specials, both in the UK and in the US; Max also appeared in adverts in the UK for television rentals, in the US for Coca Cola, and even on a record, 'Paranoimia', with the Art of Noise.

In 1987, the American television company Lorimar (makers of such notable television shows as 'Dallas') acquired the rights to the character of Max, and a series went into production. The first episode was based on the British TV-movie, and even featured some of the same actors, including Matt Frewer as Max; however, the ending was changed so that, instead of departing on board Blank Reg's Bigtime Television bus, Max joined the ranks of Network XXIII's staff. The look and feel of the new series was very faithful to the original movie, and continued to explore the concept of television addiction and viewer exploitation, with some episodes such as 'Body Bags' and 'Baby Grobags' being particularly dark in tone.

Sadly, only fourteen episodes were made, and the last episode, 'Baby Grobags', was never shown in the US. The series was transmitted in the UK soon after, in Channel Four's late night slot, but has never been repeated in the since. In 2010 it was finally released on DVD – thankfully without the inclusion of any Blipvert amongst the special features!


Max Headroom - UK TV Special
Max Headroom - US Season 1
Max Headroom - US Season 2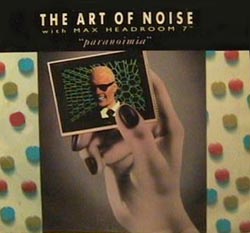 .

Back to the Databanks Main Page -
where you'll find guides to some of the best cult and classic science fiction and telefantasy programmes ever transmitted!



Legal Bit: 'Max Headroom' is a registered trademark of Channel 4 / ABC Television. The 'Max Headroom' logo and all images from the British television special are copyright Channel 4, and the American television series is copyright ABC Television, unless otherwise stated; music is copyright the original composers and producers; no copyright infringement is intended. All specially created images and text are copyright © Clive Banks; please do not use these without my permission. All rights reserved. No profit is made from this website, and any revenue made from using the banner-links featured goes straight back into the costs of maintaining it, which comes out of my own pocket in the first place. No profit advertising is accepted. This website was created purely to entertain and amuse, and any references to persons living, dead, comatose, in suspended animation, not born yet, or a figment of someone's imagination is purely coincidental. All opinions expressed are my own, so there...



You can buy DVDs of 'Max Headroom' at:
[Homepage]

[About Me]

[C.V.]

[Gallery]

[What's New]

[Nothing]

[FAQ]

[Contact Me]