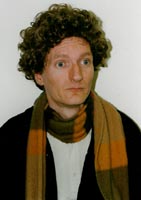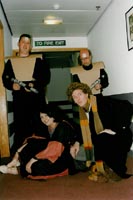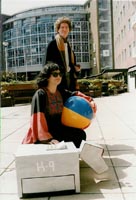 Here's a short film I made back in 1997, with some chums from the BBC Post Production department, produced for inclusion in that year's VT Christmas tape. (For those of you that are unfamiliar with the Christmas tapes: they are an infamous annual event which has been going since 1978, made by the post production people, and which include outtakes, satire, spoofs, skits, parodies and generally anything else that's both very funny and in extremely bad taste).

Shot in and around the BBC's Television Centre in London, the film is a spoof / homage to the days of Tom Baker's portrayal of the Doctor, which is seen as a classic era in the show's history. The plot pokes fun at a typical 'Doctor Who' storyline, and also satirises the political climate in the BBC Post Production Department of that time; I deliberately included the usual wobbly sets, dodgy special effects and wooden acting (which was deliberate, honest!) that the show was infamous for, also throwing in plenty of cliches and cardboard for good measure, plus a nod to previous Christmas VT tapes and even a cameo from yours truly.

So, sit back and enjoy Jonathan Wood as the Doctor ("Would you like a jelly baby?"), Emma Ware as Sarah ("Doctor - look!") and a cardboard box as K-9, as together they face the menace of Smart One! 'Edits of Evil' runs for about seven minutes - I hope you enjoy it!




CAST
The Doctor
....................
Jonathan Wood
Sarah
....................
Emma Ware
Co-ord 1
....................
Tim Emblem-English
Co-ord 2
....................
Rob Deacon
Voice of Smart One
....................
Tim Emblem-English
Voice of K-9
....................
Clive Banks

CREW
Videotape Editor
....................
John Makin
Cameraman
....................
Dave Rixon
Sound & Noise
....................
Bob Greenwood
Production Assistant
....................
Deborah Johnson
K-9 operator
....................
Sinead Sweeney

Written, Produced and Directed by Clive Banks

(Special thanks to Andrew Frampton, who converted the movie to QuickTime for inclusion on this site)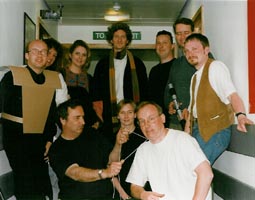 The Cast and Crew: (Clockwise from left)
Tim Emblem-English, Deborah Johnson, Emma Ware, Jonathan Wood, Rob Deacon, John 'Wing Commander' Makin, Clive Banks, Bob 'Bobby G' Greenwood, Sinead Sweeney and 'Ravey' Dave Rixon.



Back to the Databanks Main Page -
where you'll find guides to some of the best cult and classic science fiction and telefantasy programmes ever transmitted!



Legal Bit: 'Doctor Who' is a registered trademark of BBC Worldwide. The 'Doctor Who' logo and all images from the television series are copyright BBC unless otherwise stated; music is copyright the original composers and producers; no copyright infringement is intended. All specially created images and text are copyright © Clive Banks; please do not use these without my permission. All rights reserved. No profit is made from this website, and any revenue made from using the banner-links featured goes straight back into the costs of maintaining it, which comes out of my own pocket in the first place. No profit advertising is accepted. This website was created purely to entertain and amuse, and any references to persons living, dead, comatose, in suspended animation, regenerated, not born yet, or a figment of someone's imagination is purely coincidental. All opinions expressed are my own, so there...
[Homepage]

[About Me]

[C.V.]

[Gallery]

[What's New]

[Nothing]

[FAQ]

[Contact Me]